To start using Estuary, visit the main Estuary site at estuary.mcmaster.ca. You should see something like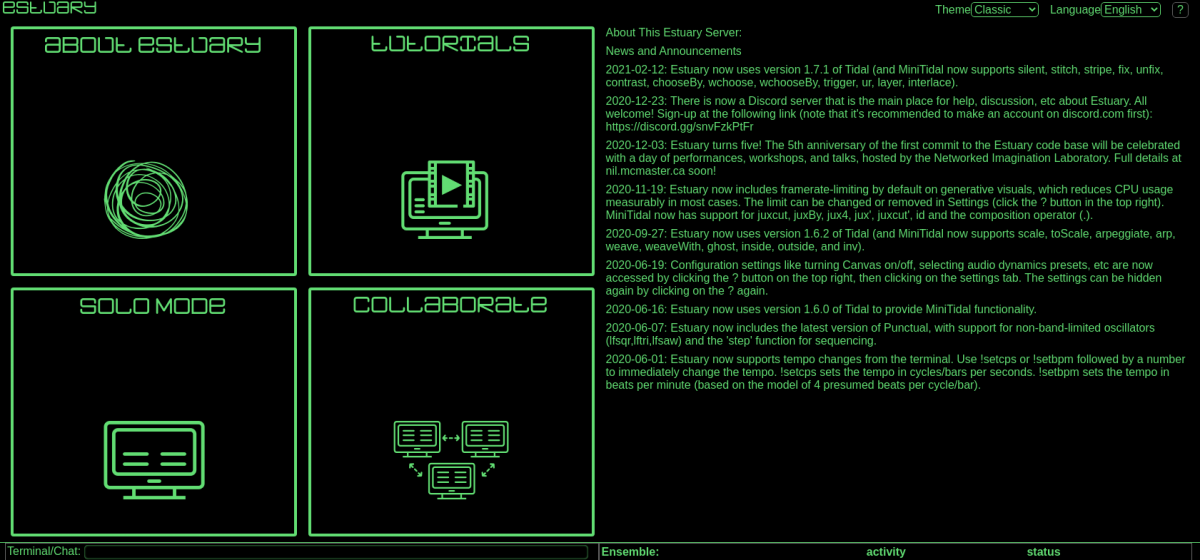 For now, you'll want to click on the box that says solo mode in order to start using Estuary. The collaborate option is what you'll be using later to work with a group of people simultaneously!
Now you should be seeing the following There's these six regions, panels, that are all able to run code separately from each other. You pick the language to use by clicking on the dropdown menu above one of the panels.
Try selecting minitidal, typing s "bd*4" inside the panel, and then hitting the play button above the panel:

And, after a short delay, you should hear a simple drumbeat
Now, if you want to make the sound stop you just erase the code and hit play again! In a performance, you probably want to cut rather than just delete the code, so you can paste it back in later if you want.
One last thing to discuss about Estuary is that you can name each panel by clicking just above the play button. It's not obvious but this is actually a text field you can type in. This is mostly important when you're doing live jam sessions both to let the audience know who's doing what but also to keep you and your team from stepping on each other's toes.